West Island Karate - What We're All About
Here's an advertorial that appeared in The Chronicle in September of 2008 featuring photos of some of our newest (and cutest :-)) students. The interview with Sensei John neatly encapsulates what West Island Karate is all about.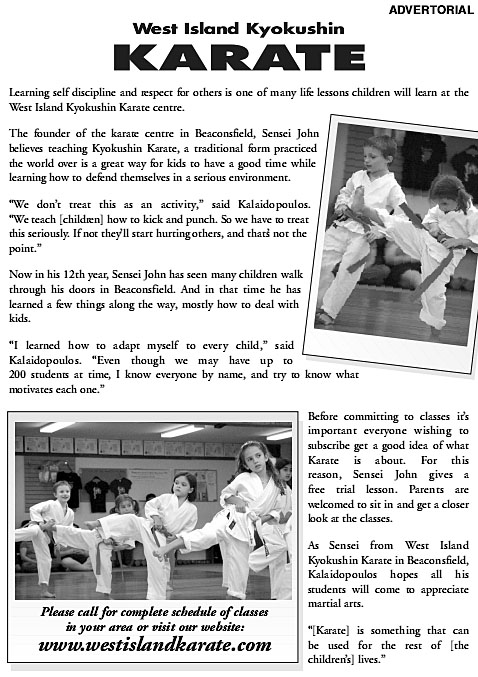 Kimm Carrière - West Island Karate Student Tackles Rugby
Our own Kimm Carrière recently tried her hand at rugby (she was a brown belt at the time this story appeared in the Gazette...the photo is not part of the original article). Both she and her rugby coach discovered that Kimm's karate skills translated very well to her latest sporting endeavour and have already helped her make the leap to competitive rugby at the provincial level. Congratulations Kimm! Osu!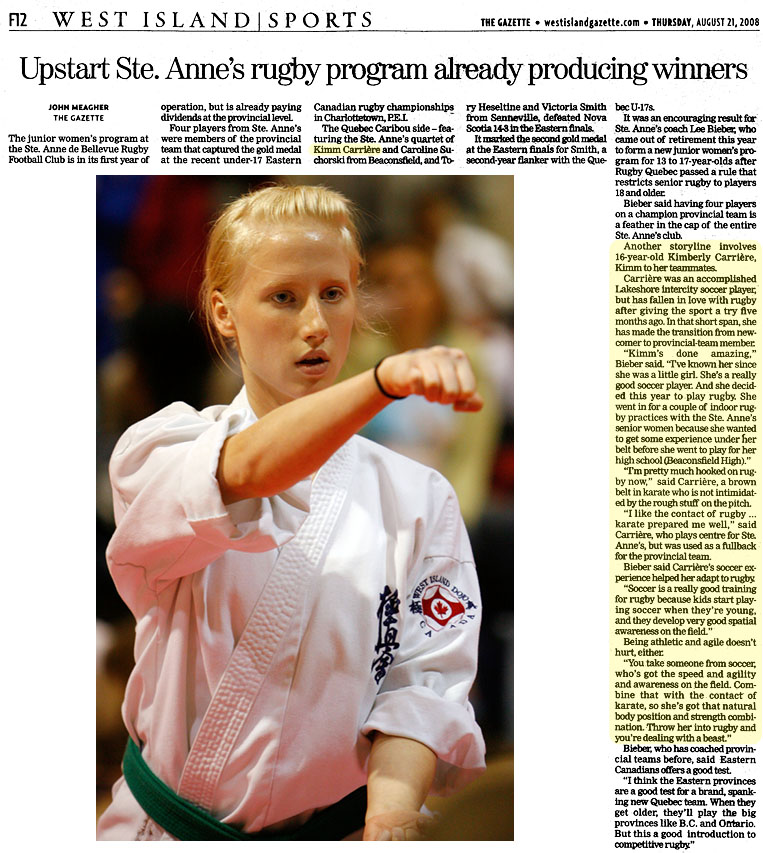 Kristyn & Lauren - Young Achievers 2007
It is immediately obvious to everyone at our dojo that each of the kids at West Island Karate is exceptional in his or her own way. As a prime example of this, two of them were recently recognized at The Chronicle's annual "Young Achievers Gala", an event that highlights the outstanding accomplishments of our youth. Consequently both students were featured in the corresponding insert of The Chronicle (Nov. 21/07 issue) called "Young Achievers 2007: A Tribute To 40 Gifted And Talented Young West Islanders". As you'll read below, these sisters excel in a variety of pursuits and have made significant efforts to help the local community as well as those less fortunate in other parts of the world. West Island Karate is very proud of both Kristyn and Lauren. Way to go girls! Osu!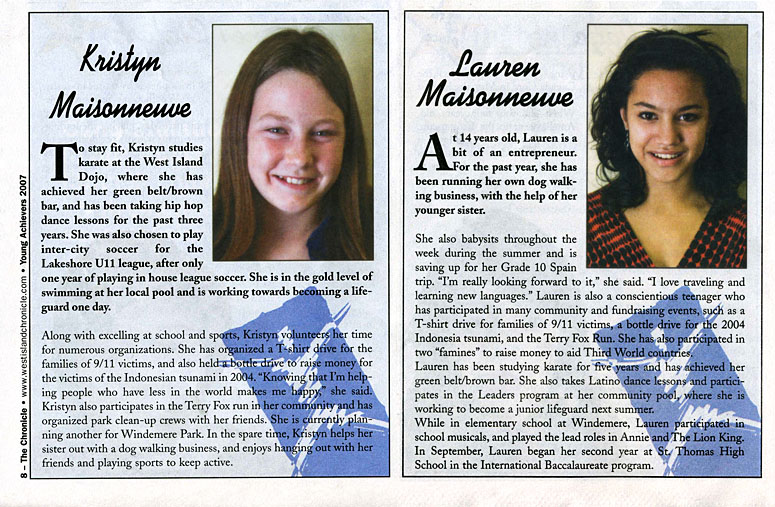 Lia Calderone - West Island Karate's First Female Black Belt!
Here's an article that appeared in The Chronicle on August 23rd, 2006, shortly after Sempai Lia was graded to Shodan and Sempai Pam was graded to 1st Kyu by Sensei John. Congratulations to both! Well done. Osu!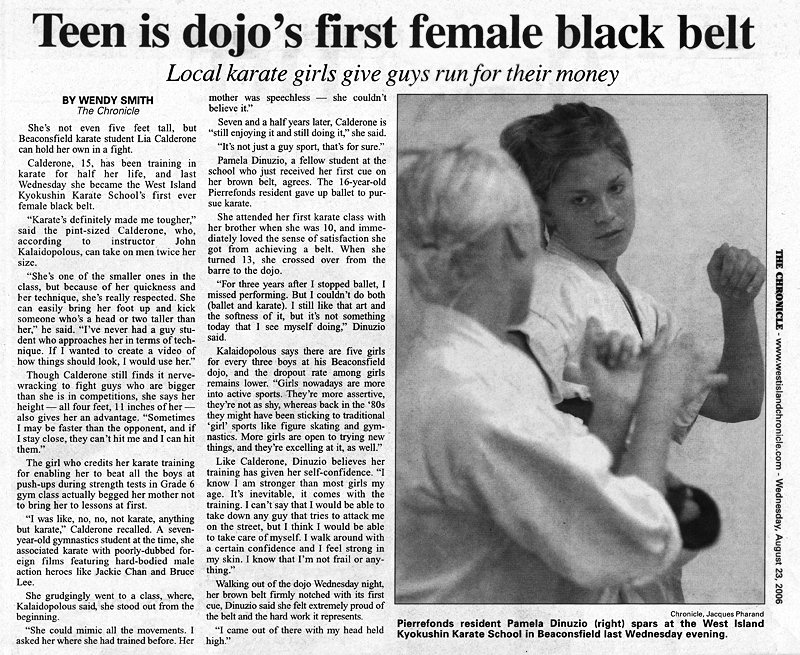 Jimmy Galanopoulos - Makes It To Round Of 16 At 2004 World Championships
Our own Sempai Jimmy (Shodan) made it all the way to the round of 16 at the 2004 World Championships held in Isesaki, Japan. Only a green belt at the time, it was Sempai Jimmy's first experience at this full-contact event which takes place every four years and features some of the world's best Kyokushin Karate practitioners. Making the top 16 also meant that he finished the highest of any Canadian in the men's category. West Island Karate is very proud of Sempai Jimmy's amazing accomplishment. Congratulations Sempai! Osu!